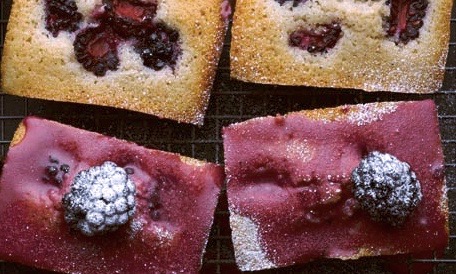 I recently came across this lovely story and recipes by talented London chef, Yotam Ottolenghi, who writes for The Guardian newspaper in the UK. What a delightful surprise I got to read that Yotam had found inspiration in my Little Cafe Cakes cookbook.  I was totally chuffed to see he likes my work as much as I like his. Thanks Yotam!
As featured in The Guardian, UK, Saturday 28 August 2010.
A long time ago, when I was taking my first steps on the road to chefdom and devouring cookbooks like there was no tomorrow, I came across a charming little book on a charming little subject: Little Cafe Cakes, by Julie Le Clerc, featured miniature versions of cakes and other small sweet delights. The idea appealed to me for some reason. Why do the Japanese love bonsai? Why do some people collect model cars? Maybe they give us a sense of greatness, reducing an object that is usually too large to hold in one hand or, in the cake's case, swallow in a mouthful or two. Is it some kind of ego boost, or is it that small things are more aesthetically pleasing? The most convincing explanation to me is that mini versions mean you can have many more of them than you'd otherwise dream of.
Whatever the reason, as a now mature proprietor of a business that prides itself on its cakes, I can tell you that bonsai cakes and other one-to-three-bite items are taking over. Gone are the days when you went to a cake shop for a slice of this or a chunk of that.
Today, everyone wants small, compact, cute: cupcakes, muffins, tartlets and cookies; truffles, bars, brittles and bites. These cutesie little sweets have obvious advantages and appeal. They're convenient both to sell and to carry (they're ideal for picnics), they look good, they don't dry out as a cake does when you cut off a slice, and they prove that you actually can have your cake and eat it – or at the very least another one just like it.
Recipes by Yotam Ottolenghi, as printed in The Guardian, UK, 2010
Blackberry & star anise friands
Un-iced, these baby cakes are made for the cookie tin – they keep well and are ideal for grabbing on a whim. Iced, they would not look out of place in the poshest of afternoon tea selections. Makes 10.
340g egg whites (10 egg whites)
100g plain flour
300g icing sugar
180g ground almonds
2 tsp star anise, finely ground
⅓ tsp salt
Grated zest of ½ lemon
220g unsalted butter, melted and left to cool, plus extra for greasing
150g blackberries
For the icing (optional)
70g blackberries, plus 10 extra, to garnish
2 tbsp water
300g icing sugar, plus extra to dust
Heat the oven to 170C/335F/gas mark 3. Use melted butter to brush the bottoms and sides of 10 mini loaf tins (4.5cm high x 9.5cm long x 6.5cm wide), or similar small baking tins, and chill. Put the egg whites in a large bowl and whisk to froth them up a bit; don't whip them completely. Sift the flour, icing sugar, ground almonds, star anise and salt, add to the egg whites and stir until incorporated. Add the lemon zest and melted butter, and mix just until the batter is smooth and uniform.
Pour into the baking tins, filling them two-thirds of the way up. Halve the blackberries and drop into the batter. Bake for 20-25 minutes, or until a skewer comes out clean. Remove from the oven, leave to cool a little, take out of the tins and leave until completely cool.
To ice the cakes, put the berries and water in a small bowl and use a fork to smash the fruit in the water. Pass through a fine sieve, pressing the pulp against the sides. Pour three-quarters of the purple juice over the icing sugar and whisk vigorously to a uniformly light-purple, runny paste. It should be just thick enough to allow you to brush it over the tops of the cakes, and will set as a thin, almost see-through coating on top with some icing dripping down the sides. (If not, add more juice.) Place a blackberry on each friand and dust with icing sugar.
Dried blueberry & white chocolate chip cookies
These tend to lose their crunch the next day, even in a sealed container, but pop them in the oven for a few minutes, leave to cool and they'll regain it. Use currants or cranberries instead, if you prefer (the latter are good if you don't like things too sweet). Makes 35.
150g unsalted butter, softened
70g dark muscavado sugar
70g caster sugar
1 free-range egg, beaten
160g plain flour
¼ tsp bicarbonate of soda
¼ tsp salt
80g roasted hazelnuts, with their skins, roughly chopped
60g white choc chips
100g dried blueberries
Put the butter and sugars in a bowl and use a wooden spoon or a hand-held mixer to cream until pale and aerated. Mix in the egg a bit at a time. Sift the flour and bicarb, stir into the mix with the salt, then fold in the other ingredients. The mix is very wet and sticky, so chill for at least an hour.
Roll the dough into roughly 20g balls. Lay these on a lined tray and spaced well apart (they will spread a lot) and bake at 170C/335F/gas mark 3 for eight to 10 minutes, until golden brown. Leave to cool, then store in an airtight container.
Spicy corn muffins
The ideal home for these is the picnic hamper. Makes 12.
150g corn kernels (fresh or frozen)
140g plain flour
1 tsp baking powder
½ tsp bicarbonate soda
1 tbsp ground cumin
1 tsp cayenne pepper
1½ tsp salt
½ tsp crushed black pepper
60g muscavado sugar
180g quick polenta
360g soured cream
2 free-range eggs
120ml olive oil
4 spring onions, roughly chopped
10g coriander leaves, chopped
1 red chilli, finely chopped
For the topping
200g feta, cut into 2cm dice
1 tbsp olive oil
1 tsp cumin seeds
1 red chilli, thinly sliced
Heat the oven to 160C/320F/gas mark 2½. Cut out 12 12cm-square pieces of baking parchment, and use to line 12 small muffin tins (or shallow tart tins 5-7cm in diameter and 3cm deep). Put the corn in a hot cast-iron pan and toast on high heat for five to six minutes, stirring occasionally, until blackened a little on the outside. Leave to cool.
Sift the flour, baking powder, baking powder, cumin and cayenne into a large bowl and stir in the salt, black pepper and sugar. In a separate bowl, lightly whisk the polenta, soured cream, eggs and oil. Pour the wet mix into the dry ingredients, add the onions, coriander, chilli and corn and fold just to combine. Divide the mix between the cases, filling them to the top. Mix together the topping ingredients and divide between the muffins. Bake for 25-30 minutes, until a skewer comes out clean.
Lemon cheesecake & poppy seed tartlets
Simply delicious. Makes eight.
200g cream cheese
60g caster sugar
2 small eggs
90g soured cream
Grated zest and juice of 2 small lemons (50ml juice, 1 tbsp zest)
Melted butter, for brushing the tins
Icing sugar, to finish (optional)
For the pastry
170g plain flour
50g icing sugar
90g cold butter, diced
Grated zest of ¼ lemon
1 tbsp poppy seeds
⅛ tsp salt
1 egg yolk
Roughly 1 tbsp cold water
Start with the pastry. Put the flour, sugar, butter, zest, poppy seeds and salt in the bowl of a food processor and work to uniform crumbs. Add the egg yolk and just enough water to bring everything together, collect the pastry into a flat block, wrap in cling-film and chill for at least 30 minutes.
Preheat the oven to 160C/335F/gas mark 2½. Brush eight small muffin tins (or shallow tart tins, as before) with butter. Roll out the pastry 2-3mm thick and cut out eight circles to fit the tins. Line the tins with the pastry, rest in the fridge for 20 minutes, then line each pastry case with baking parchment and fill with baking beans. Bake for 15 minutes, until golden. Remove, take out the beans and leave to cool down.
Lower the heat to 150C/300F/gas mark 2. Whisk the cream cheese and sugar until smooth and uniform, whisk in the eggs, then the soured cream, lemon zest and juice. Fill the cases to the top and bake for 15 minutes, until just set. Leave to cool, then chill for at least an hour before taking out of the moulds. Dust with icing sugar, if you like.
Yotam Ottolenghi is chef/patron of Ottolenghi in London, and author of several gorgeous cookbooks.