When life seems to get busier by the day, it's worthwhile taking the time to linger over a cooking pot and to relish its gentle, unhurried bubbling. To watch a delicious meal simmer, slowly, can be a very restorative diversion. And when you don't have the time then it's good to know some slow-cook dishes can even be left alone to do their thing while you get on with something else. Slowly simmering food is one of the most ancient forms of cooking and the results deeply satisfying. Whether the recipe you choose to follow is an age-old soup or stew or a modern combination, the finished all-in-one meal will surely revive any flagging spirits or jaded palates.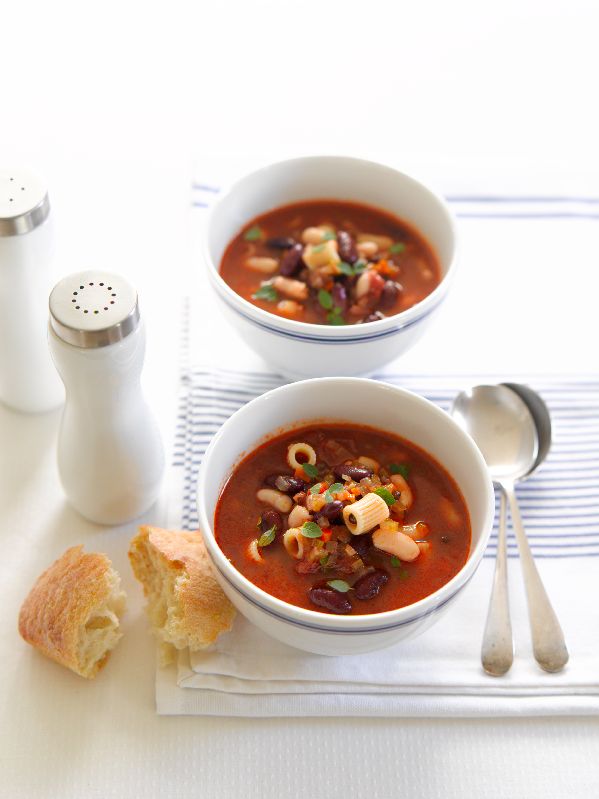 Bean and Lentil Soup
Bean soups are wonderfully satisfying and tasty – this one can also be cooked in a crock-pot, if preferred.
Serves 6
2 tbsp olive oil
1 onion, finely diced
1 large carrot, peeled and finely diced
2 sticks celery, finely diced
2 cloves garlic, crushed
400g can crushed tomatoes
4 cups vegetable or chicken stock
1/2 cup green lentils
1 cup macaroni or other small pasta shapes
400g can white cannellini beans, rinsed and drained
400g can red kidney beans, rinsed and drained
2 tbsp chopped fresh oregano
Salt and freshly ground black pepper
1 Heat oil in a large saucepan, add onion, carrot and celery; cook over a low heat for 10 minutes until soft but not browned. Add garlic and cook for 1 minute more.
2 Add tomatoes, stock and lentils. Bring to the boil then simmer for 20 minutes.
3 Add pasta and beans and simmer for 10-15 minutes or until pasta is tender. Add oregano and adjust seasoning with salt and pepper to taste.
Chef's trick: This soup can be made in advance and stored in the fridge for reheating throughout the week. You will find the flavours develop and improve with time.