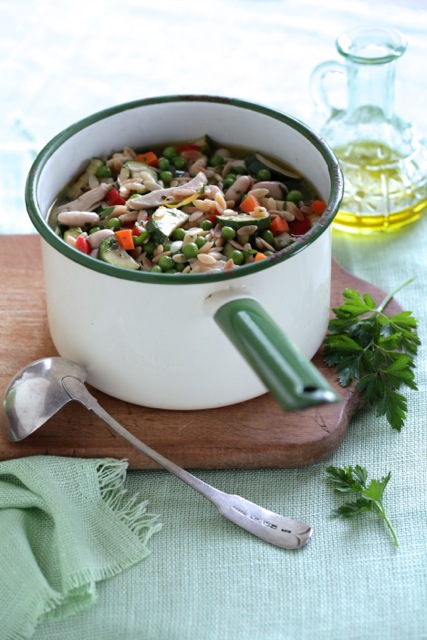 Toasting the orzo pasta doesn't take long and gives extra richness and depth of flavour to this sustaining chicken soup.
Serves 4
500g skinless, boneless chicken breasts
4 cups liquid chicken stock
Extra virgin olive oil
1 cup orzo pasta (see note)
1 small zucchini, finely chopped
1 carrot, peeled and finely chopped
1 small red pepper, finely chopped
1 small onion, finely chopped
2 cloves garlic, finely chopped
Salt + freshly ground black pepper
2 tbsp chopped fresh oregano
2 tsp grated lemon zest
Place chicken and stock in a saucepan. Bring to the boil then simmer gently for 10 minutes to poach chicken. At the same time, heat a large heavy-based saucepan over medium heat. Add 2 tablespoons oil and orzo and cook, stirring for 2-3 minutes, until pasta is toasted golden-brown.
Add zucchini, carrot, pepper, onion and garlic to the pan. Season with salt and pepper. Cook, stirring regularly, for 2-3 minutes.
Remove chicken from stock. Pour stock into soup pan. Chop or shred chicken and add to the soup with extra 2 cups water. Bring soup to a gentle boil and cook for 10 minutes or until orzo is just tender.
Just before serving, stir in oregano and zest and adjust seasoning to taste. Serve drizzled with extra virgin olive oil.
Chef's tip: Available from supermarkets, Orzo, sometimes called Risoni, is a small, rice-shaped pasta that has a lovely silken texture.