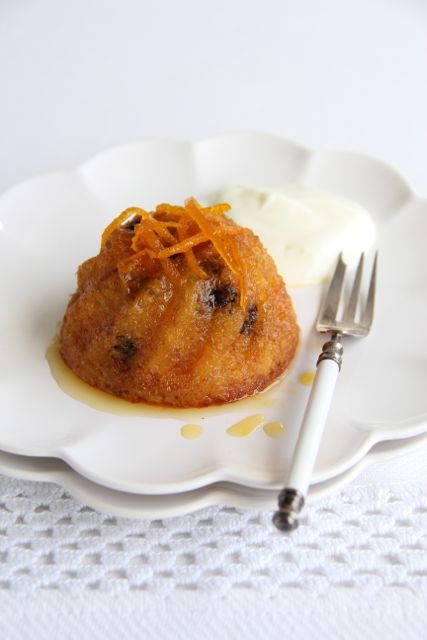 These sticky delicious little cakes are also delightfully gluten-free.
Makes 10
200 gm plain unsweetened yoghurt
1/4 cup (50 gm) instant polenta
Finely grated zest of 1 orange
85g butter, softened
2/3 cup (140 gm) caster sugar
2 large eggs
3/4 cup (105 gm) gluten-free flour baking mix (or plain flour, as desired)
1 tsp gluten-free baking powder
1/4 tsp baking soda
1/3 cup dried currants
1/3 cup coarsely chopped pistachio nuts, almonds or walnuts
Orange syrup:
1 1/2 cups (375 ml) orange juice
3/4 cup (150 gm) white sugar
Juice of 1 lemon
1 Place yoghurt, polenta and orange zest in a bowl; stir to combine. Cover and leave to stand for 2 hours for polenta to soften. Preheat oven to 180°C.
2 Heavily grease 10 individual 150 ml capacity cake tins or standard muffin holes. Place butter and sugar in a bowl and beat until pale and creamy. Beat in eggs, one at a time. Stir in polenta and yoghurt mixture.
3 Sift flour, baking powder and soda over the creamed mixture and stir to combine. Stir in raisins and nuts. Spoon mixture into prepared cake tins, dividing evenly, to fill by two-thirds, and smooth the surface.
4 Bake for 18-20 minutes or until cakes test cooked when an inserted skewer comes out clean. Remove to cool a little in cake tins before inverting onto a serving plate.
5 To make Orange syrup, place orange juice and sugar in a pan. Bring to the boil, stirring until sugar dissolves. Simmer for 3-4 minutes or until slightly reduced and syrupy. Remove from heat and stir in lemon juice. Pour hot syrup over cold cakes.