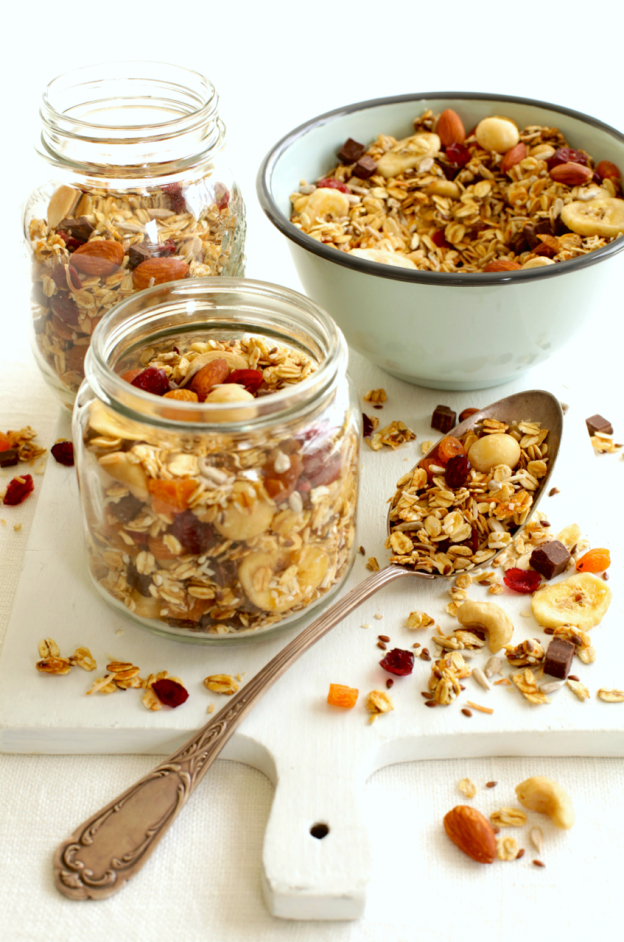 (Makes approximately 1.25kg)
Here's a fantastic crunchy granola (or you can call it muesli, if you prefer) that's super healthy, has no added oil or refined sugar, and is bound with only the natural goodness and flavour of honey. What a great way to start your day.
4 cups whole grain oats
1 cup shredded coconut
1/3 cup whole linseeds (flax seeds)
1/3 cup white sesame seeds
1/3 cup sunflower seeds
2 tsp ground cinnamon
2/3 cup liquid honey
1 1/2 cups Alison's Pantry Super Boost blend (or any mix of dried fruits and nuts that you desire)
1 cup banana chips
1. Preheat the oven to 170°C. Line an oven pan with non-stick baking paper. Place oats, coconut, seeds and cinnamon in a large bowl.
2. Warm honey in a small pan, or microwave for 20 seconds, then pour over the oat mixture. Stir well to coat all ingredients.
3. Spread mixture out over prepared oven pan. Bake for 25 minutes, or until toasted golden brown. Stir regularly so the ingredients cook evenly and watch carefully, as the mixture can easily brown quite quickly.
4. Remove from the oven and set aside to cool to room temperature, then stir in the Super Boost blend and Banana chips. Note: Dried fruits need to be added after toasting as their natural sugars can tend to burn if toasted in the oven for too long.
5. Stored in an air-tight container, Granola will last well for up to 6 weeks.