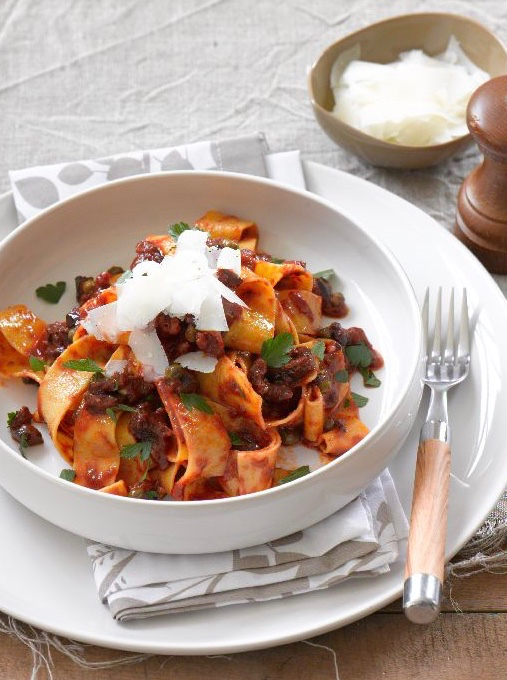 This is the best pasta sauce for when you want a dish in a hurry that combines maximum flavour with minimum fuss. It works particularly well with any long pasta shape, such as spaghetti, linguine, fettuccini or pappardelle.
3 tbsp olive oil
4 cloves garlic, crushed
1 small red chilli, finely chopped with seeds removed
6 anchovy fillets
1 cup pitted black olives, chopped
2 tbsp capers
2 tbsp tomato paste
400g can tomato puree
350g long pasta (I used pappardelle)
3 tbsp chopped flat leaf parsley
Shaved parmesan, to serve
1 Heat oil in a heavy-based saucepan. Add garlic, chilli and anchovies and cook over a medium heat for 1 minute.
2 Add olives, capers, tomato paste and puree and 1/2 cup water. Simmer for 5-10 minutes until sauce has reduced and thickened.
3 At the same time, cook pasta for 8 minutes or according to packet instructions until al dente (just tender to the bite). Drain well, toss with sauce and serve scattered with parsley and parmesan. Serves 4
Chef's tip: Cook dried pasta in plenty of boiling, salted water, according to the packet instructions (about 8-10 minutes, depending on size) or until 'al dente' (just tender to the bite), as they say in Italian. There is no need to add oil to the water but it is wise separate the pieces with an initial stirring. Drain well and immediately to prevent the pasta continuing to absorb liquid or it may become gluey.