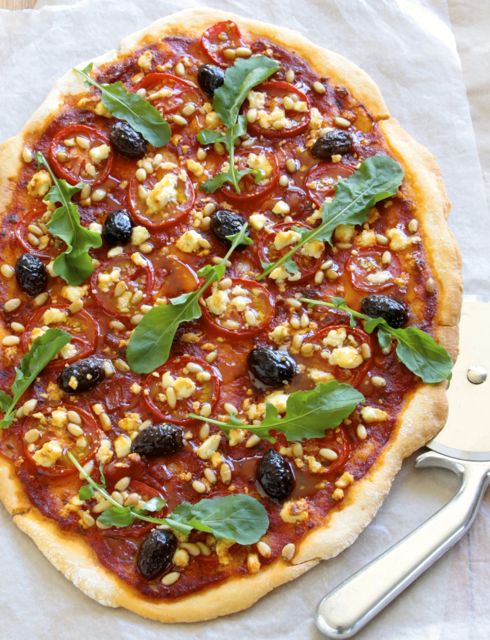 GLUTEN-FREE PIZZA DOUGH
(this recipe is from my cookbook, Made by Hand)
This dough makes a tasty gluten-free alternative for those who need it and a perfectly good pizza base for those who don't have gluten issues.
Makes 2 thin pizza bases
1 cup warm filtered water
1/2 teaspoon sugar
2 teaspoons active dry yeast
2 1/2 cups gluten-free flour mix
1 teaspoon natural sea salt
2 tablespoons olive oil
Extra gluten-free flour, to dust
1 Place warm water in a small bowl. Sprinkle with sugar and then yeast and set aside for 5 minutes for the yeast to activate – the mixture will foam, indicating the yeast has been activated.
2 Place the flour and salt into the bowl of a food processor. With the motor running, add the activated yeast mixture and the oil and process until the mixture comes together to form a ball of soft dough. There is no need to knead a gluten-free dough.
3 Place the dough in a lightly oiled bowl. Cover with a damp tea towel and leave in a warm place to rise for approximately one hour, or until doubled in volume.
4 Knock back the dough with your fist and turn out onto a work surface lightly dusted with flour and knead just to bring the dough together again. This dough is delicate and hard to roll, so use your hand to press and shape it into the desired base and top with your choice of ingredients.
Note: at this stage, the dough can be stored in the fridge for one day or frozen for up to two weeks. Bring the dough to room temperature before rolling out and cooking.