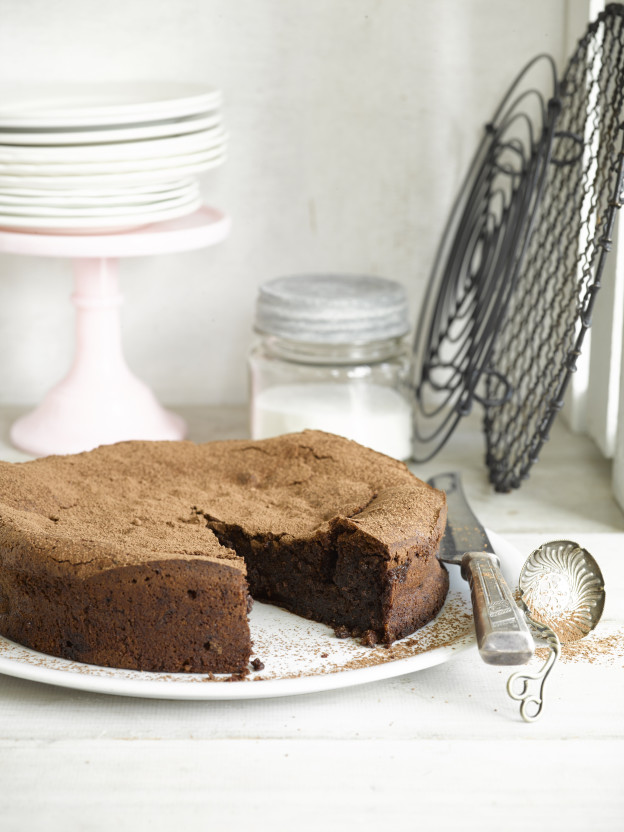 The combination of orange marmalade, chocolate and nuts is astonishingly good. This gluten-free, dairy-free cake is made with oil instead of butter, which helps to keep it super moist.
Serves 12
175g quality dark chocolate (dairy-free)
150ml grape seed oil
2/3 cup orange marmalade
175g nuts (walnuts, almonds, or pecans), finely ground in a food processor
5 large eggs, separated
3/4 fine raw sugar
1 tbsp cocoa powder, to dust
1 Preheat oven to 190°C. Grease a 23cm springform cake tin and line base with baking paper, cut to fit. Melt chocolate and oil together in a bowl set over a saucepan one quarter full of simmering water. Stir until smooth. Stir in marmalade to combine. Stir in ground pecans.
2 In another bowl, whisk egg yolks and sugar together until thick and creamy. Fold this mixture into the chocolate mixture.
3 In a separate, clean bowl, whisk egg whites until stiff peaks form. Fold egg whites into chocolate mixture in three stages, so you don't knock out the air.
4 Spread mixture into prepared tin. Bake for 20 minutes, then reduce oven temperature to 170°C and bake for 40 minutes more, or until a skewer inserted in the centre comes out clean.
5 Remove to cool in the tin. Once cold, remove from tin. Dust with cocoa and slice thinly, to serve.