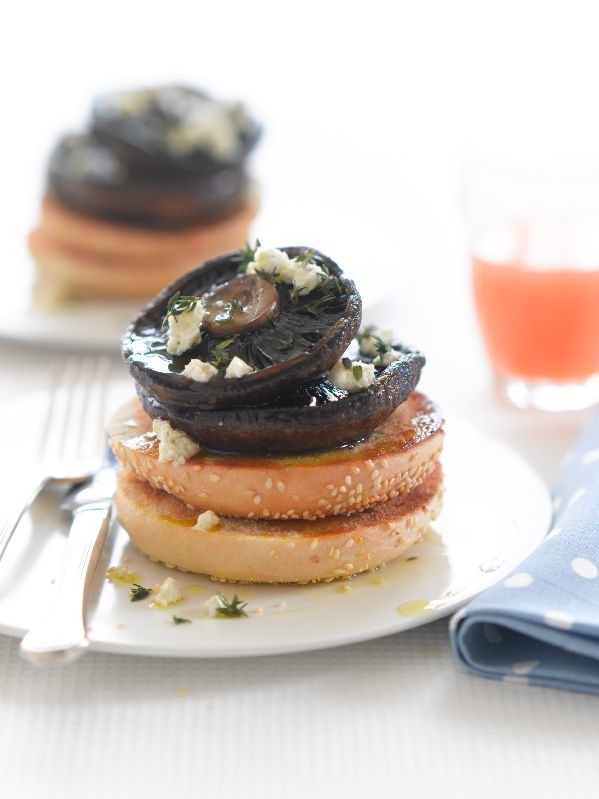 Boursin is a beautifully creamy soft French cheese that works well with the earthy taste and texture of mushrooms in this bagel stack.
Serves 4
1/4 cup olive oil
1 garlic clove, crushed
2 tbsp parsley, chopped
1 tsp thyme leaves
1 lemon, rind finely grated
4 large flat mushrooms, stalks trimmed
4 bagels, split in half and toasted
40g herb and garlic Boursin cheese, crumbled (see note, below)
1 Preheat grill on high heat. Combine oil, garlic, parsley, thyme, lemon rind and salt and pepper in a small bowl.
2 Place mushrooms, stem-side down, on grill tray. Brush mushrooms with herbed oil. Grill for 3 minutes.
3 Turn mushrooms stem-side up and brush with remaining herbed oil. Grill for further 3 to 4 minutes or until lightly browned.
4 Pile mushrooms onto toasted bagels and scatter with crumbled Boursin.
Chef's trick: You'll find Boursin in the cheese section of supermarkets and delis. Substitute soft feta cheese or even cream cheese, if necessary.