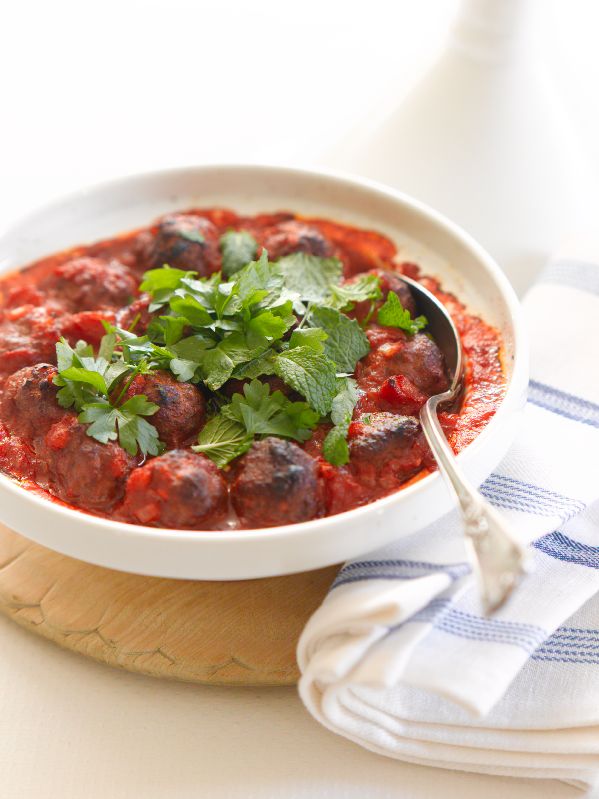 Meatballs are popular in many different cuisines, so here's a dish the whole family is sure to love.
Serves 4
500g lamb mince
1/2 cup fresh bread crumbs
1 tsp ground coriander
1/2 tsp ground cinnamon
1/2 tsp ground cumin
1 egg, lightly beaten
Salt and freshly ground black pepper
2 tbsp fresh mint leaves, chopped
2 tbsp fresh parsley, chopped
Tomato sauce:
1 tbsp olive oil
1 small onion, finely chopped
2 cloves garlic, finely chopped
400g can chopped tomatoes
1 Preheat oven to 200°C. Place lamb mince, breadcrumbs, spices and egg in a large bowl. Mix well to combine and season with salt and pepper. Form into 24 meatballs. Place in an oven pan and bake for 15 minutes until browned.
2 To make the sauce, heat olive oil in a saucepan. Add onion and garlic and cook for 8 minutes until soft but not browned. Stir in tomatoes and season to taste with salt and pepper.
3 Transfer meatballs to the base of a tagine or a baking dish. Pour sauce over meatballs and turn to coat. Bake for a further 10 minutes until browned. Serve scattered with mint and parsley.
Chef's trick: Use damp hands to form meatballs with ease, as the moisture will stop the mince sticking to your hands.