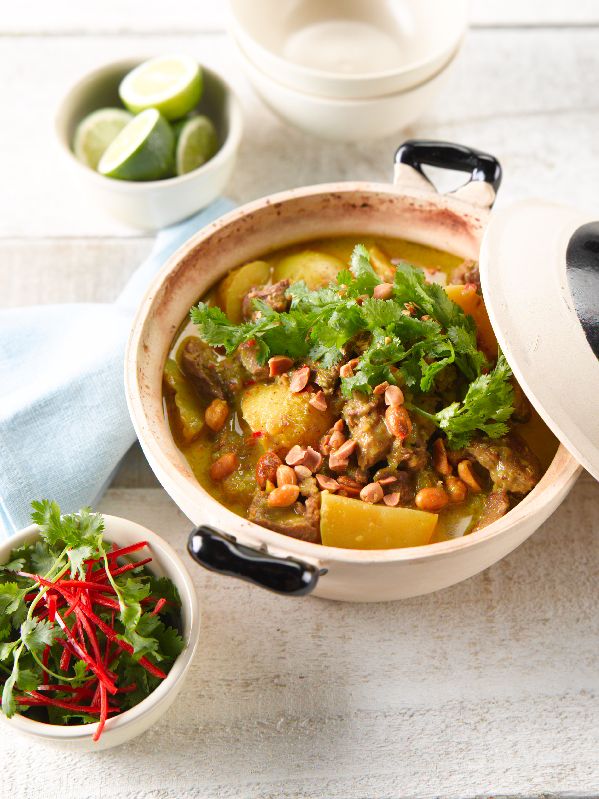 Serves 6
Massaman is an old way of saying "Muslim" and this curry is so called because many of the dry spices were carried to Thailand by early Muslim traders. This rich, melt-in-your-mouth, Southern Thai curry combines typical Thai ingredients with a strong Indian influence. Like Indian curries, this recipe is heavy on dry spices and very aromatic.
2 tbsp peanut oil
650g lamb steaks, cut in large cubes
1 large onion, diced
2 tbsp grated fresh ginger
5 cloves garlic, chopped
1 small red chilli, sliced
1 cup liquid chicken stock
1 stalk lemongrass, finely chopped
1 tsp each ground coriander, cumin, cardamom and turmeric
1 tbsp palm sugar, or substitute brown sugar
3-4 tbsp Thai fish sauce
Juice of 1 lime
400ml can coconut milk
6-8 small potatoes, scrubbed and quartered
3/4 cup dry-roasted peanuts
1/2 cup sprigs fresh coriander
1 Heat a wok or large frying pan over high heat. Add oil and lamb, tossing to brown all over. Remove to one side. Add onion, ginger, garlic, and chilli to the pan and stir-fry 1-2 minutes to release flavours.
2 Add stock, lemongrass, dry spices, shrimp paste, sugar, fish sauce, and lime juice. Bring to a light boil, stirring to combine ingredients. Return lamb and juices to the pan. Simmer gently for 1 hour.
3 Stir in coconut milk, potatoes and peanuts. Simmer for a further 45 minutes, stirring occasionally, until lamb and potatoes are tender. Serve scattered with coriander. Serve with extra lime, and chilli on the side, if desired.