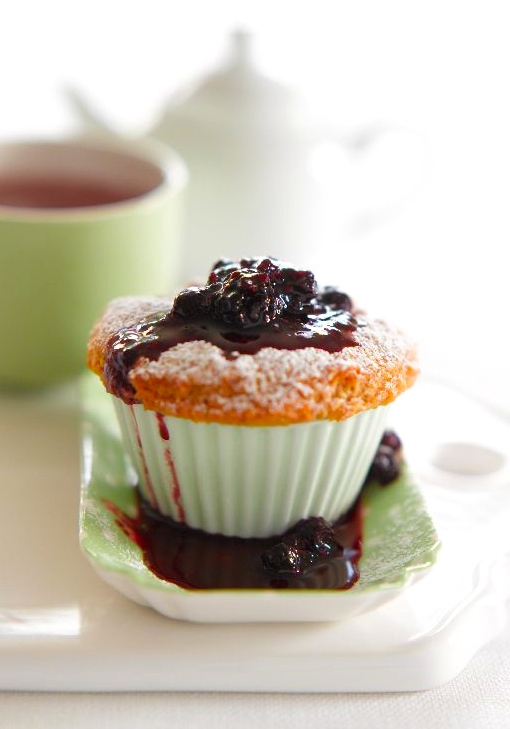 Real marzipan gives these breakfast muffins a bitter-sweet almond taste that is quite distinctive. And a topping of hot berry sauce lifts these morning treats to another realm beyond the norm.
Makes 12
150g marzipan, coarsely grated
2 1/2 cups flour
2 tsp baking powder
1 tsp cinnamon
1 cup caster sugar
2 eggs, lightly beaten
Finely grated zest of 1 orange
100g butter, melted and cooled
1 cup milk
Icing sugar, to dust
Berry sauce:
2 cups mixed berries (fresh or frozen)
1/3 cup sugar
Juice of 1 orange
1 Preheat oven to 180°C. Line 12 standard muffin tins with paper cases. Sift flour, baking powder, sugar and cinnamon into a bowl; make a well in the centre.
2 Add eggs, orange zest, butter, milk and grated marzipan to the well and stir just enough to combine (do not over mix or the muffins will be tough).
3 Spoon the mixture into prepared cases. Bake for 25-30 minutes until golden brown.
4 Meanwhile, make the berry sauce. Place berries, sugar and juice in a saucepan and simmer for 10 minutes until thick. Top muffins with hot berry sauce and dust with icing sugar to serve.
Chef's trick: Marzipan is a thick almond paste made from ground almonds and sugar (this is different to the almond flavoured icing for fruit cakes). Look for real marzipan in delis and selected supermarkets.