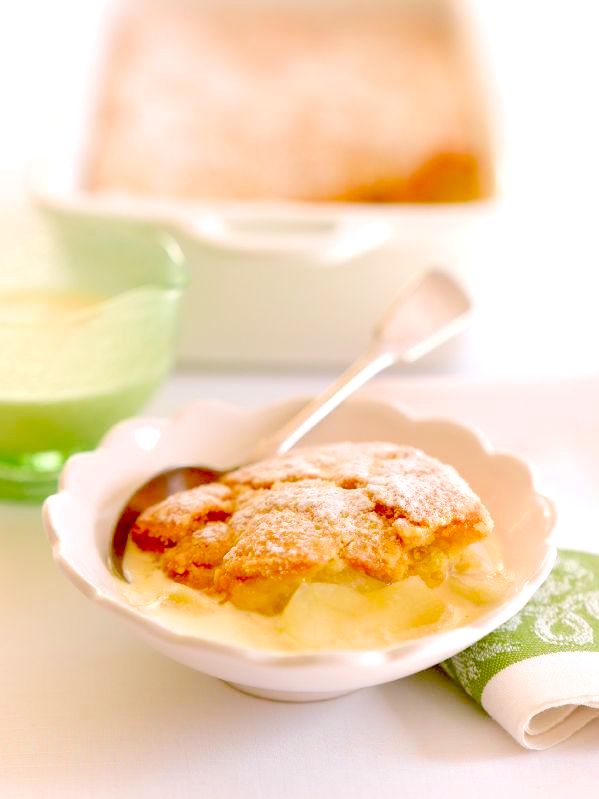 This classic spongy pud is made divinely fragrant with a good grating of lemon zest, while the buttery sponge sits atop apples, cooked until tender in lots of fresh lemon juice.
Serves 8
4 large cooking apples, peeled
1/3 cup cold water
Finely grated zest and juice of 2 lemons
1/3 cup sugar
125g butter, softened
1/2 cup caster sugar
1 egg
1 cup flour
2 tsp baking powder
Icing sugar, to dust
1 Quarter apples, remove and discard cores, slice flesh in wedges. Place sliced apples, water, lemon juice and sugar in a saucepan. Simmer for 5 minutes until apples are tender. Spread cooked apples into a deep-sided oven dish.
2 Preheat oven to 180°C. Place butter and caster sugar in a bowl and beat until pale creamy. Beat in egg and stir in lemon zest.
3 Sift flour and baking powder over creamed mixture and stir to just combine. Place spoonfuls of mixture over apples – the mixture is very thick but will spread during cooking to cover apple base.
3 Bake for 40 to 45 minutes or until sponge springs back when touched. Dust with icing sugar to serve.