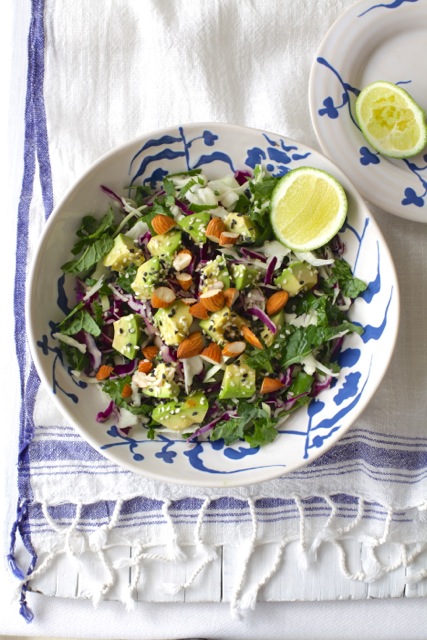 A deliciously textural salad combination that tastes great while being super good for you, as well.
Serves 4
2 cups shredded kale
1 cup shredded red cabbage
1 cup shredded white cabbage
2 spring onions, finely sliced
Juice of 2 limes
1 tbsp toasted sesame oil
1 tbsp light soy sauce
1 avocado, cubed
1/2 cup raw almonds, coarsely chopped
2 tbsp sesame seeds
Salt and freshly ground black pepper
Sliced limes, to serve
Combine kale, cabbage and spring onions in a bowl. Drizzle with lime juice, sesame oil and soy sauce and toss well to combine.
Scatter with avocado cubes, almonds and sesame seeds and season with a little salt and pepper, to taste.
Serve with extra lime on the side to squeeze over.