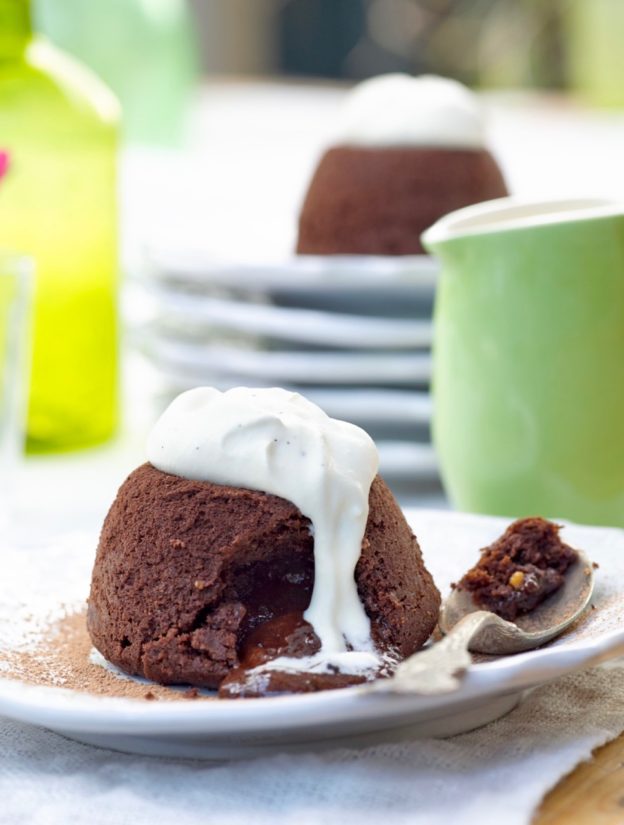 These luscious puddings are great entertaining food, as they can be made the day before, chilled overnight, and then cooked just before you're ready to serve.
Makes 10
200g dark chocolate, chopped
180g butter, chopped
3 tbsp crunchy peanut butter
1/2 cup caster sugar
4 small eggs
110g plain flour
Chantilly cream:
1/2 cup cream, lightly whipped
1 tbsp icing sugar
Seeds from 1 vanilla bean
1 Start preparations the day before. Grease 10 x 1/2 cup capacity individual cake tins and lightly dust with flour. Place chocolate, butter and peanut butter in a bowl and microwave to melt. Stir until smooth.
2 In a clean bowl, whisk sugar and eggs until mixture begins to turn pale (about 3 minutes) – don't over beat or cakes will collapse after baking.
3 Fold chocolate mixture into egg mixture and when almost fully incorporated, then fold in flour. Spoon mixture into prepared tins; place tins on a tray. Cover with plastic wrap and refrigerate overnight.
4 When ready to cook, remove tins from fridge while preheating oven to 230°C. Transfer cake tins to an oven tray and bake for 9-10 minutes. The outer cake should be set but the inside still liquid. Turn out and serve immediately with Chantilly cream, made by adding sugar and vanilla to whipped cream.