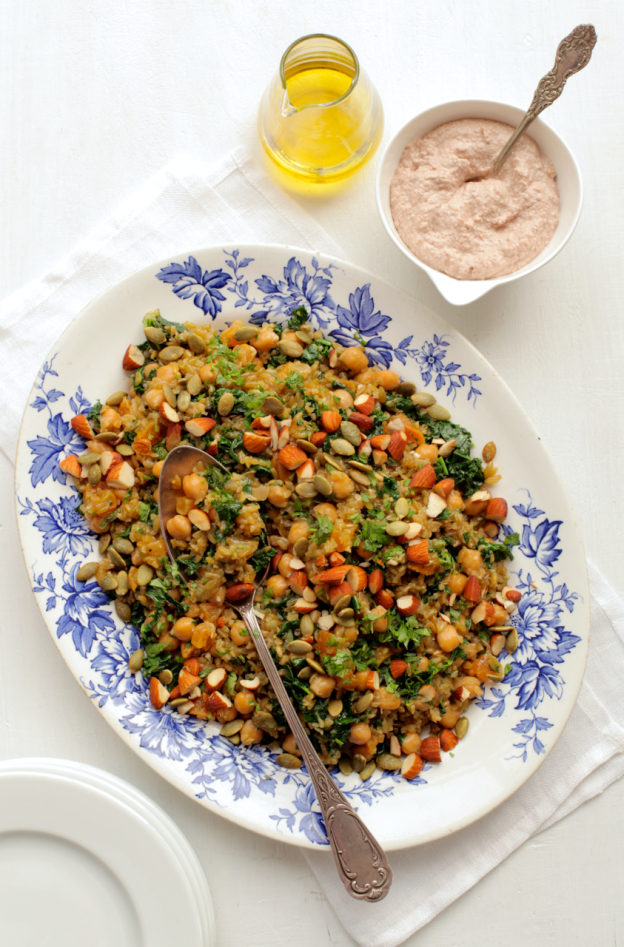 Freekeh Pilaf with Walnut Sauce
Serves 4
1 1/2 cups Alison's Pantry walnuts
2 cloves garlic, chopped
Juice of 1/2 lemon
Pinch chilli powder
Olive oil
Salt and freshly ground black pepper
2 medium onions, thinly sliced
1 1/4 cups Alison's Pantry Freekeh
1 1/4 cups liquid vegetable stock
1/2 cup Alison's Pantry dried apricots, coarsely chopped
400gm can chickpeas, rinsed and drained
1 bunch kale, coarsely chopped
Handful each of coriander and mint, finely chopped
1/4 cup Alison's Pantry pumpkin seeds, toasted
1/2 cup Alison's Pantry roast whole almonds, chopped
1. To make walnut sauce, chop walnuts in a small food processor. Add garlic, lemon juice, chilli, 3 tbsp olive oil, salt and pepper. Add 1/4 cup boiling water and process to form a smooth, creamy paste. Adjust seasoning to taste.
2. To make the pilaf, heat 2 tbsp oil in a pan, add onions and cook over a medium heat for 10-15 minutes, stirring regularly until onions are browned.
3. At the same time, soak the freekeh in cold water for 5 minutes. Rinse well under cold running water then drain. Add the freekeh to the onions, followed by the stock. Stir well.
4. Bring to the boil, then cover pan, reduce heat, and simmer for 15 minutes. Stir in the apricots, chickpeas and kale and simmer for 3-4 minutes more. Remove the pan from the heat and set aside for 5 minutes.
5. Taste and adjust seasoning with salt and pepper. Spoon onto a serving platter. Sprinkle with pumpkin seeds, almonds and herbs and finish with a nice drizzle of olive oil. Serve with walnut sauce on the side to dollop over.