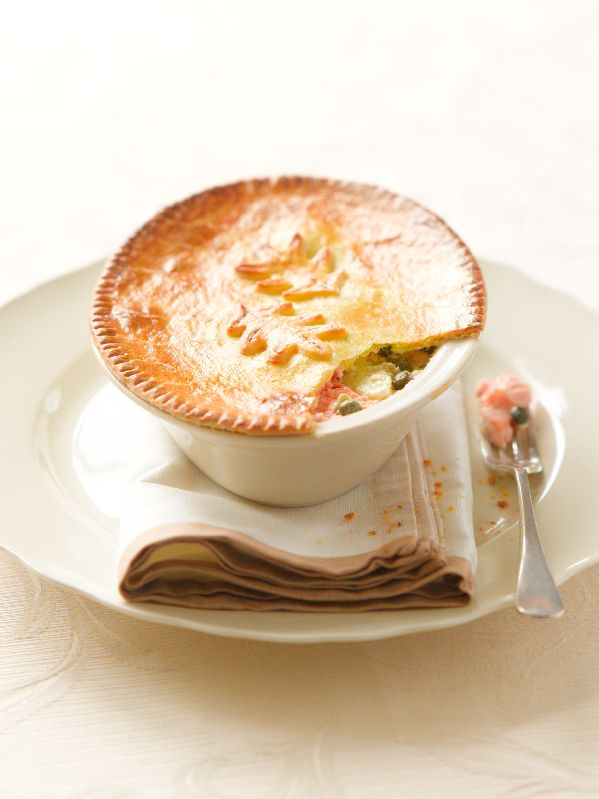 Pies are wonderful comfort food and this one, filled with fragrant salmon bathed in a creamy, wine sauce and studded with artichokes and capers, is no exception. I've simply topped these ingredients with pastry, meaning some buttery, flaky texture is there but this is a lighter version of pie, so you can still feel virtuous.
Serves 6
900g skinless, boneless salmon fillet, cut in large cubes
Salt and freshly ground black pepper
1 cup artichoke hearts, sliced
1/4 cup salted capers, rinsed and drained
1 cup crème fraiche (or sour cream)
1/2 cup Chardonnay
3 sheets pre-rolled savoury shortcrust pastry
1 egg beaten with 2 Tbsp milk, to glaze
1 Season salmon with salt and pepper and divide between 6 individual 1 1/2-cup capacity pie dishes, interspersing each with some artichoke quarters and capers.
2 Place sour cream and chardonnay in a bowl and whisk to combine. Spoon some sauce on top of each pie.
3 Cut pastry lids to fit the top of the pie dishes and use to cover each pie. Press pastry edges with a fork to secure and cut small slits in pastry lids to release steam during cooking. Use pastry scraps to make decorations, such as leaves, if desired. Chill pies for 30 minutes.
4 Preheat oven to 200°C. Brush pastry lids with egg glaze. Bake pies for 25-30 minutes or until pastry is golden brown.