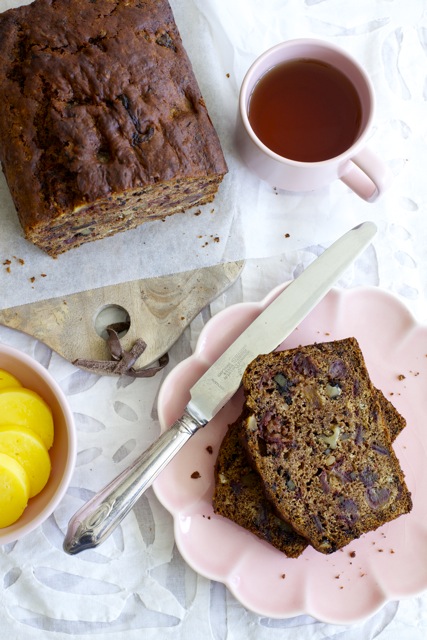 Use ordinary, inexpensive dried dates for this recipes (not Medjool dates, which are actually fresh dates and too fabulous to use in baking).
Serves 10
1
 tbsp chia seeds mixed with 3 tablespoons warm water and allowed to thicken for 30 minutes (this is an egg substitute)
1 1/2 
cups chopped pitted dried dates (just common supermarket dried dates)
2
 cups boiling water
2 
cups plain flour
1 
tbsp baking soda
2
 tsp ground cinnamon
1/4 
tsp salt
1/3
 cups coconut sugar (or soft brown sugar, if preferred)
1 
tsp apple cider vinegar
3/4
 cups almond milk or soy milk
1/3 cup liquid honey
1/2 
cup melted coconut oil
1/2 
cup chopped walnuts
1 Preheat oven to 180°C. First soak the chia seeds, as instructed above. Pour the boiling water over the dates and leave to soak for at least ten minutes. Line a loaf tin with non-stick baking paper.
2 While the dates soak, whisk together the flour, baking soda, cinnamon, salt, and sugar in a bowl. In another bowl, whisk together the vinegar and non-dairy milk vigorously until frothy. Add the honey, coconut oil, and chia-water combination.
3 Stir the wet ingredients into the dry ones until just mixed. Drain and fold in the dates, along with the walnuts. Add an extra splash of almond or soy milk if the mixture is too dry.
4 Pour into the tin and bake for 35 to 40 minutes, or until a toothpick inserted in the center comes out clean. Remove to a wire rack to cool.