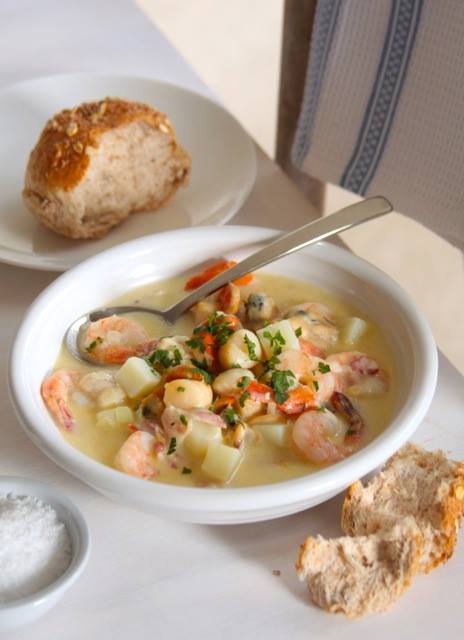 This seafood chowder with delightfully creamy and rich with seafood. It's a hearty meal in a bowl and wonderfully warming on a cold winter's night.
Serves 6
3 tbsp olive oil
1 large onion, finely diced
300g rindless free-range bacon, coarsely chopped
1/3 cup plain flour
2 cups fish or chicken stock
2 cups milk
3 medium waxy potatoes, peeled and cut in 1cm dice
400g white fleshed fish fillets, roughly cubed
200g scallops, cleaned
200g peeled prawns
200g mussel meat, chopped
1/2 cup sour cream
Salt and freshly ground black pepper
2 tbsp chopped fresh parsley
1 Heat a saucepan, add oil, onion and bacon and cook over a
medium heat for 5-10 minutes until onion is soft. Stir in
flour, off the heat.
2 Add stock and milk, and bring to the boil, stirring
until thickened and smooth. Add diced potatoes, turn down
the heat and simmer for 10 minutes to cook potatoes.
3 Add fish and seafood and simmer very gently for 10 minutes
to cook. Lastly, stir in sour cream parsley and season to taste with
salt and pepper. Serve in deep soup bowls with crusty bread
on the side, if desired.