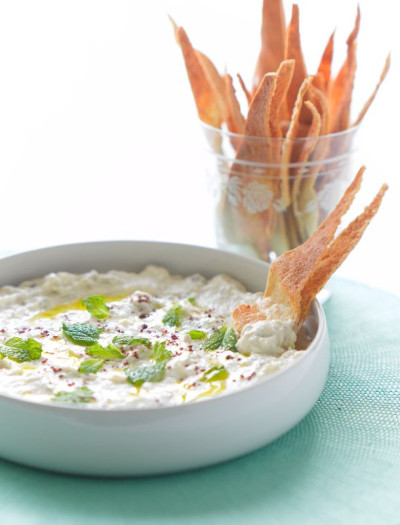 In the Mediterranean, dips like this one are often presented in wide, flat dishes (rather than bowls); drizzled with olive oil and garnished with herbs. Sharing this sort of food is a very convivial way to start a meal.
Makes 2 cups
1 large (500g) eggplant
1 cup thick Greek-style yoghurt
1 clove garlic, crushed
2 Tbsp tahini (sesame paste)
Salt and freshly ground black pepper
2 Tbsp extra virgin olive oil, to drizzle
Sprig of mint, and sumac, to garnish
Toasted pita bread, to serve
Preheat oven to 220°C. Prick the eggplant's skin all over with the tip of a sharp knife then place it in a small oven pan. Roast for 45 minutes until the skin blackens and blisters and the flesh is very soft. Remove to cool.
Cut the eggplant in half; scoop out the flesh with a spoon. Mash the flesh and place in a bowl. Stir in the garlic, tahini and yoghurt and season with salt and pepper to taste.
Spoon into a bowl, drizzle with olive oil and sprinkle with mint and sumac. Serve with shards of toasted pita bread, to dip.
Chef's trick: whole eggplants expand during cooking and can even explode in the oven; pricking the skin will stop this from happening.