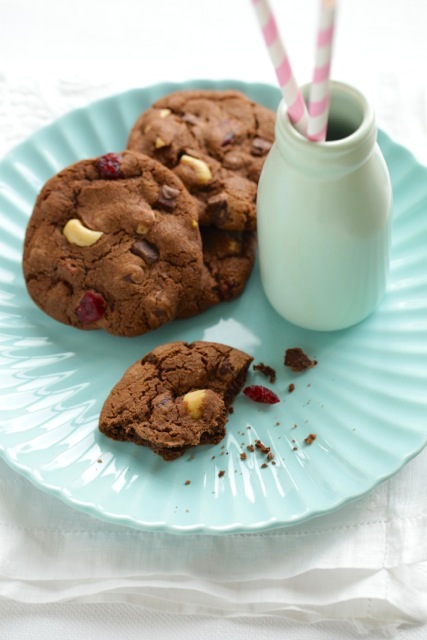 (Makes 32-36, depending on size)
125g butter, softened
1 1/4 cups firmly-packed soft brown sugar
1 egg
1 1/4 cups plain flour
1 tsp baking soda
1/3 cup cocoa powder
1 cup (125g) dark chocolate, chopped
1/2 cup dried cranberries
1/2 cup cashew nuts, roughly chopped
1. Preheat oven to 180°C. Line two baking trays with non-stick baking paper. Place butter, sugar and egg in a bowl and beat until creamy.
2. Sift together flour, baking soda and cocoa and stir into creamed mixture. Stir in chocolate, cranberries and nuts.
3. Drop heaped tablespoons of the mixture onto prepared trays, leaving space for cookies to expand during cooking. Press to flatten slightly.
4. Bake for 10 to 12 minutes or until set around the edges. Transfer to a wire rack to cool. Store in an airtight container for up to a week.