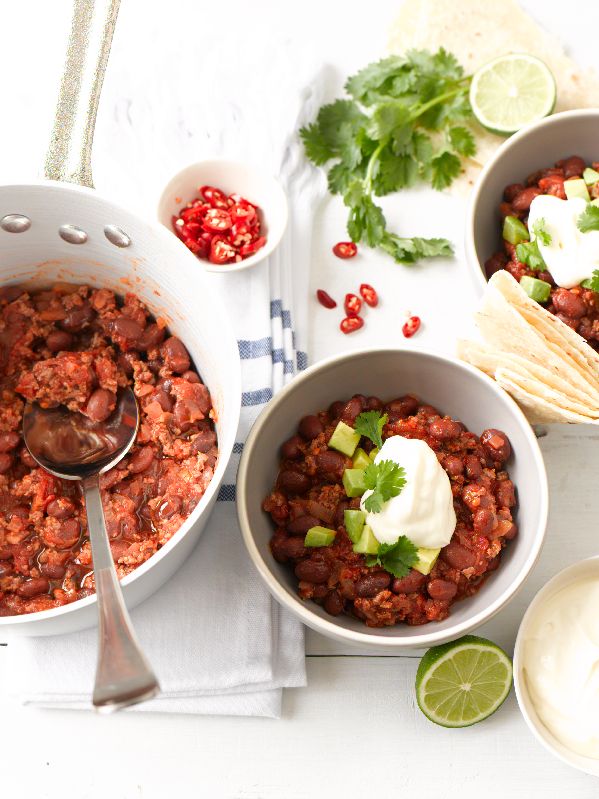 A good savoury mince recipe is super versatile and can form the base of many different dishes – instead of going Mexican with chilli and beans: add oregano and bacon for Italian Bolognaise; layer with eggplant and cheese sauce to make Greek Moussaka; or top with mashed potato for Cottage Pie.
Serves 6
2 tbsp olive oil
1 onion, finely diced
500g beef mince
2 x 400g can chopped tomatoes
2 tbsp tomato paste
1 small red chilli, finely chopped (or 1/2 tsp chilli powder)
400g can red kidney beans, rinsed and drained
Salt and freshly ground black pepper
1 Heat a saucepan, add oil and onion and cook over a medium heat for 5 to 8 minutes until softened. Add beef mince and cook for 5 minutes, breaking up the mince with a wooden spoon.
2 Add tomatoes, paste and beans to the pan and simmer for 5 minutes. Add chilli and season with salt and pepper to taste.
3 Serve with condiments, such as avocado, coriander, sour cream, lime and extra chilli, on the side, as desired.