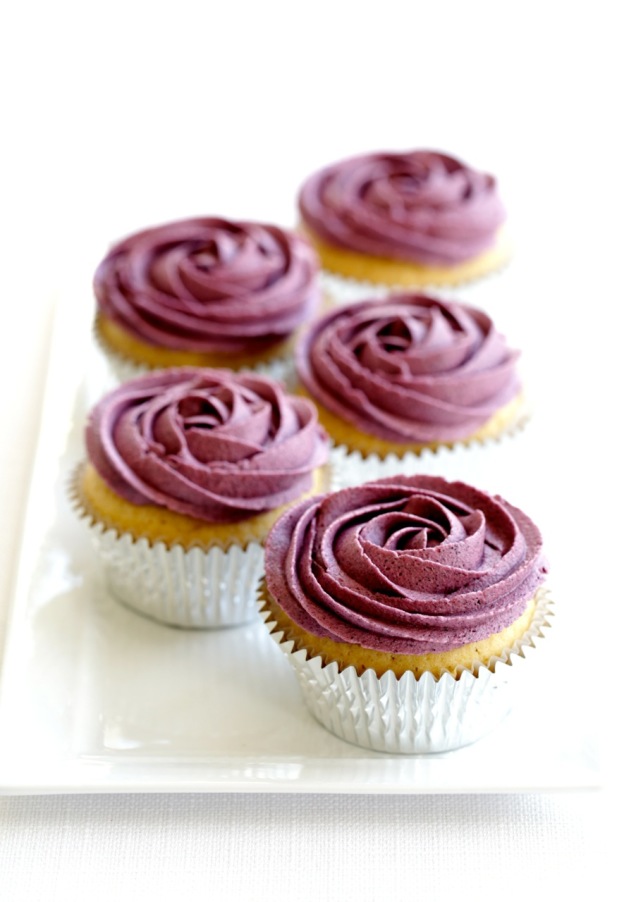 Many Cupcakes can be quite boring unless they have a good texture like these ones and are topped with an amazing frosting, such as my Fresh As Blueberry Buttercream, which really transforms the ordinary cupcake into an extraordinary sweet treat. Fresh As create freeze-dried fruits and powders – go to fresh-as.com for a list of stockists.
Makes 12
120gm unsalted butter, softened
150gm caster sugar
2 large eggs
125ml milk
1 tsp vanilla extract
175gm self-raising flour
Fresh As Blueberry Buttercream:
150gm unsalted butter, softened
175gm icing sugar, sifted
30gm Fresh As Blueberry powder
2 tbsp boiling water
Preheat oven to 160°C. Line a 12-hole standard muffin pan with paper cases. Place all cupcake ingredients in a bowl and beat with an electric mixer on low speed just to combine. Beat for 1 minute more until mixture is pale and smooth. Spoon mixture evenly between paper cases. Bake for 20-25 minutes or until a skewer inserted in the center of one cupcake comes out clean. Remove to a wire rack to cool completely.
To make Blueberry Buttercream, use an electric mixer to beat butter until very pale and creamy. Gradually add icing sugar, beating well between each addition. Add blueberry powder and boiling water and beat until incorporated. Add a little more water or icing sugar as necessary to obtain the correct creamy, fluffy frosting consistency. Place buttercream in a piping bag fitted with a star nozzle and pipe onto cupcakes in a rose pattern, or decorate as desired.