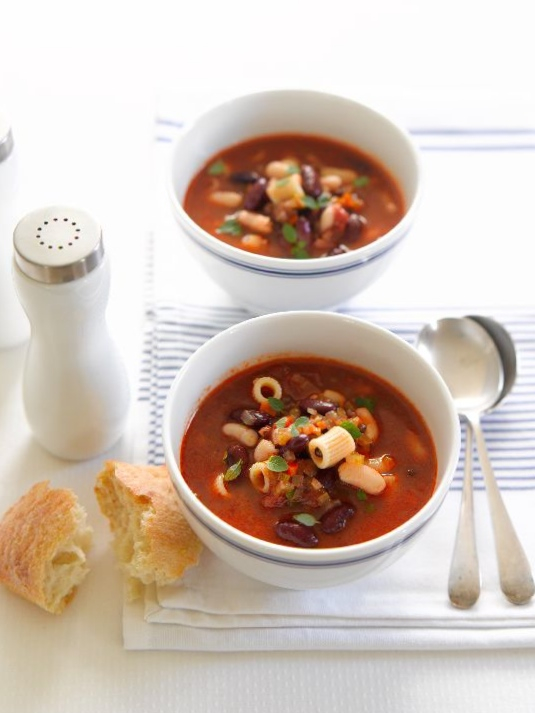 Bean soups are wonderfully satisfying and tasty – this one can also be cooked in a crock-pot, if preferred.
Serves 6
2 tbsp olive oil
1 onion, finely diced
1 large carrot, peeled and finely diced
2 sticks celery, finely diced
2 cloves garlic, crushed
400g can crushed tomatoes
4 cups vegetable or chicken stock
1/2 cup green lentils
1 cup macaroni or other small pasta shapes
400g can white cannellini beans, rinsed and drained
400g can red kidney beans, rinsed and drained
2 tbsp chopped fresh oregano
Salt and freshly ground black pepper
1 Heat oil in a large saucepan, add onion, carrot and celery; cook over a low heat for 10 minutes until soft but not browned. Add garlic and cook for 1 minute more.
2 Add tomatoes, stock and lentils. Bring to the boil then simmer for 20 minutes.
3 Add pasta and beans and simmer for 10-15 minutes or until pasta is tender. Add oregano and adjust seasoning with salt and pepper to taste.
Chef's trick: This soup can be made in advance and stored in the fridge for reheating throughout the week. You will find the flavours develop and improve with time.