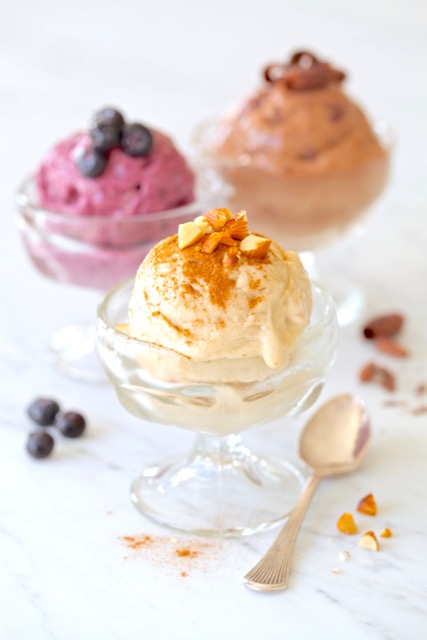 Makes approximately 1 cup
200gm (about 2 cups) sliced banana
Optional extras:
1 teaspoon natural vanilla extract
½ cup frozen blueberries
1 tablespoon raw cacao or quality cocoa powder
Optional natural toppings:
Chopped raw almonds or other nuts
A sprinkling of ground cinnamon
A few extra blueberries
Shaved dark chocolate
Edible flowers
Place the frozen banana slices in the bowl of a small food processor or high powered blender and pulse to chop the frozen banana. Add blueberries at this stage, if using.
Process for a minute until the banana looks crumbly. Scrape down the bowl. Keep blending until banana starts to look gooey. Scrape down the food processor once again. Add cocoa powder at this stage, if using.
Continue processing until suddenly, the last bits of banana smooth out and the mixture becomes creamy, with the texture of soft-serve ice cream. Add vanilla extract at this stage, if using. Blend for a few more seconds to aerate and lighten the ice cream.
You can eat the ice cream straight away if you like, but it will be quite soft. However, it's best to transfer the ice cream to an airtight container, seal the container and freeze until solid (at least 3 hours or preferably overnight).
Scoop into bowls and decorate with toppings, as desired.