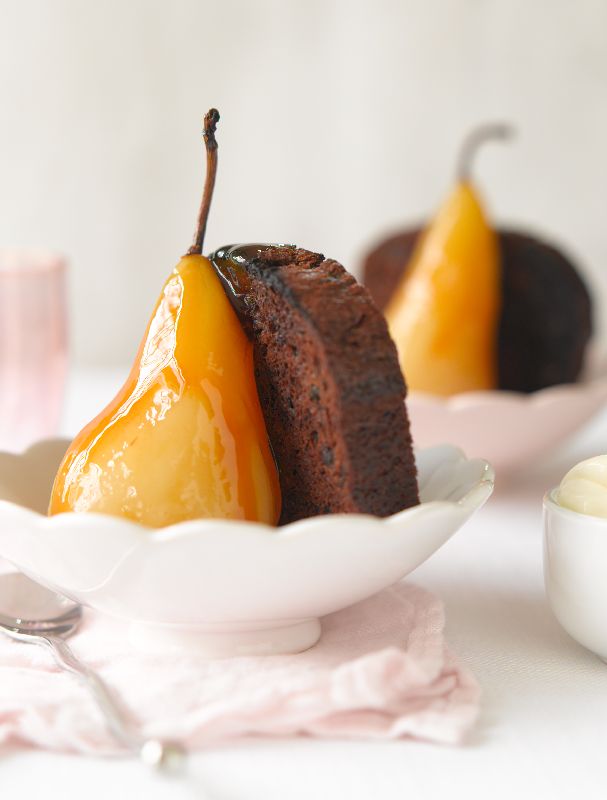 Serves 4
250g pitted dried dates (just the inexpensive ones, not Medjool dates)
1 tsp baking soda
60g butter, chopped
2/3 cup fine raw sugar (or coconut sugar, if preferred)
3 tbsp golden syrup, plus extra to serve
2 eggs, lightly beaten
1 1/4 cups flour, sifted
1 tsp baking powder, sifted
1 tsp ground ginger
Mascarpone or crème fraiche, to serve
Vanilla poached pears:
1/2 cup liquid honey
2 tsp vanilla extract
4 firm pears, peeled
1 Place dates, baking soda and 1 cup water in a saucepan. Simmer for 5 minutes until dates are soft and most liquid has reduced. Remove from heat. Stir in butter, sugar and golden syrup, breaking up dates as you stir, until butter has melted. Cool for 10 minutes.
2 Preheat oven to 170°C. Grease a 10 x 22cm standard loaf pan and line with baking paper. Stir egg into cooled date mixture. Fold in flour, baking powder and ginger. Spread mixture into prepared pan. Bake for 75 minutes or until a skewer inserted comes out clean.
3 At the same time, place honey, vanilla and 1 litre of water in a saucepan. Bring to the boil. Add pears to fit snugly, reduce heat and simmer for 15-20 minutes or until pears are tender, turning occasionally.
4 Toast thick slices of date loaf and serve with poached pears drizzled with extra golden syrup. Serve with mascarpone on the side, if desired. Any left over loaf will last well for several days if stored in an airtight container.