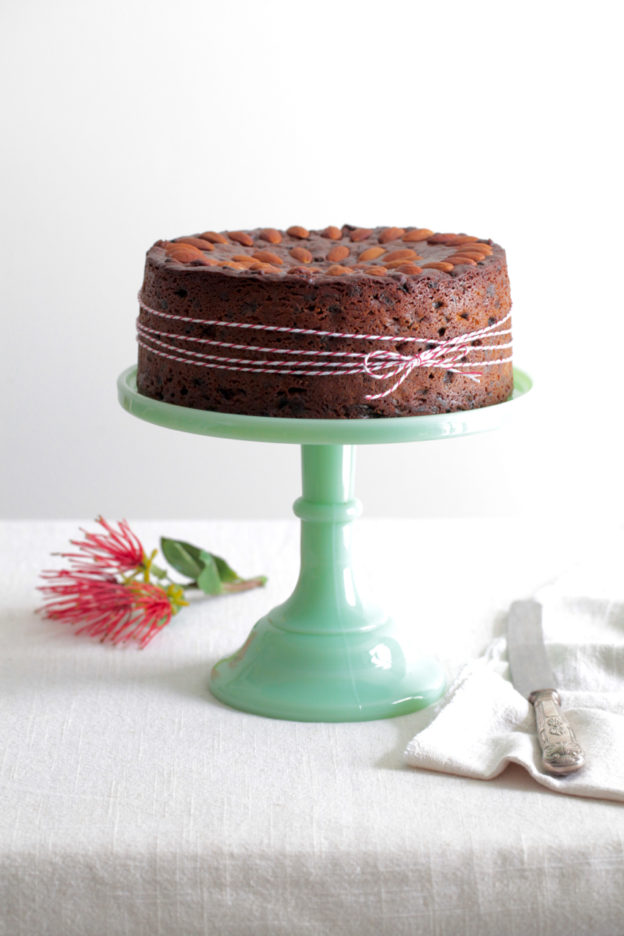 Today I'm sharing my much-requested and very special Christmas cake recipe. This cake's history dates back to World War II when eggs were hard to come by, so it is interestingly egg-free. It has now been in my family for several generations and I've made a few tweaks to the original recipe but luckily everyone seems to approve of my version. I go back to this cake time and time again because it has such amazing flavour and texture. It cuts well, even when freshly made, so it's also a good one to make last-minute if you didn't get around to making a cake in October! I like a lovely tall cake, so I use a 20cm round cake tin. However, if you use a 22-24cm cake tin then your cake will be shallower and may take only 2 ¼ hours to cook.
225 g butter, melted
1 cup hot water
1 tbsp white wine vinegar
2 tsp cinnamon
1 tsp mixed spice
1 kg dried fruit (I like an even mix of currants, raisins and sultanas)
395 g can sweetened condensed milk
1 level tsp baking soda
1/3 cup dry sherry (or whiskey or brandy, as preferred)
1 tsp vanilla extract
2¼ cups self-raising flour, sifted
Whole natural almonds, to decorate
Brandy, to douse (see note, below)
Place butter, hot water, vinegar, cinnamon, mixed spice and dried fruit into a large saucepan and bring to the boil, stirring regularly.
Remove from the heat and stir in condensed milk and baking soda (expect the mixture to foam). Set aside to cool to room temperature.
Preheat oven to 140°C (not fan-bake). Line the base and sides of a deep-sided 20-cm round cake tin with two layers of non-stick baking paper.
Add sherry and vanilla to cooled fruit mixture and stir in sifted flour. Spread mixture into prepared cake tin. Arrange almonds on top, pressing them in lightly.
Bake for 2 hours 30 minutes or until a skewer inserted in the centre comes out clean. Cool completely before removing from cake tin.
Note: To store any fruitcake, wrap tightly in a double layer of greaseproof paper and store in a cool place. 'Feed' the cake with brandy at intervals (say once a week) by poking the cake all over with a skewer, then dousing with brandy so that it soaks in through the holes and permeates the cake with flavour.
Recipe and photos © Julie Le Clerc 2018
First published in Feast @ Home, by Julie Le Clerc and later published in Julie Le Clerc's Favourite Cakes (both books published by Penguin Books NZ).