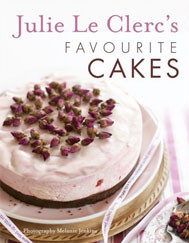 Julie Le Clerc is well-known for creating innovative flavours and trusted recipes you can reply on. In this cookbook, Julie brings you her all-time favourite recipes from a lifte-time spent creating cakes. From divine chocolate cakes to gluten-free delights to celebrations cakes and cute little cakes – and everything in between – this is the ultimate book for any cake baker.
'Good home-baked products are the most delicious but finding trusted recipes or stimulating ideas is not always easy. I know many home-cooks and professional bakers who are constantly searching for reliable, quality, inexpensive yet innovative recipes. That's why I'm keen to share with you my ideas for easy-to-follow cake recipes that result in a variety of cakes, all with seriously good flavours.'
Alongside her favourite cake recipes, Julie shares a wealth of cake-baking hints and tips and some hard-won advice. Plus, the inclusion of a handy conversion chart and essential notes chapter will help ensure success every time.