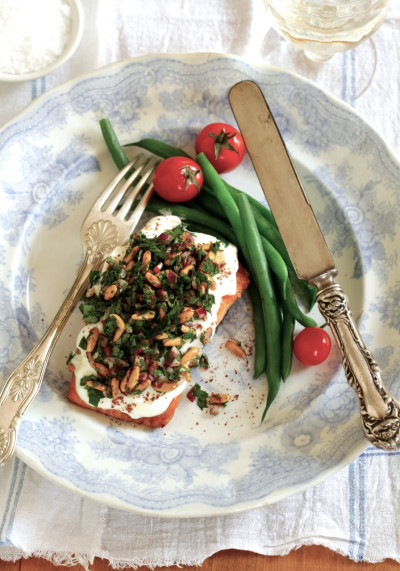 This recipe is inspired by my friend Greg Malouf's pairing of Salmon with Lebanese flavours.
Serves 4
4 x 180g salmon fillets, skin on
Salt and freshly ground black pepper
Olive oil
Lemon wedges, to serve
Yoghurt topping:
150ml very thick Greek-style yoghurt
1 tbsp tahini
1 garlic clove, crushed
Tarator Crust:
1 small red onion, very finely diced
1/2 bunch coriander, finely chopped
1/2 bunch flat-leaf parsley, finely chopped
1/4 bunch mint, finely chopped
1/2 cup toasted pine nuts, chopped
1 tbsp extra virgin olive oil
1 tbsp ground sumac, plus extra to garnish
Season salmon portions with salt and pepper and drizzle with a little oil. Preheat a frying pan or chargrill pan to medium. Cook salmon for 3-4 minutes (depending on thickness) on each side for medium-rare, or until cooked to your liking. Transfer to a plate to rest, uncovered, for 10 minutes.
To make yoghurt topping, combine all ingredients in a bowl. To make tarator crust, combine all ingredients in a bowl and season with salt and pepper.
Spread salmon portions with a thick layer of yoghurt topping. Sprinkle with tarator crust and extra sumac to garnish. Serve at room temperature, with lemon wedges on the side, to squeeze over.