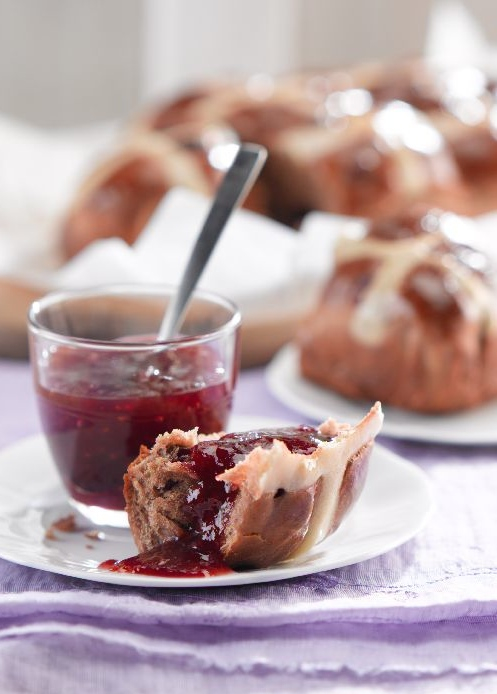 Home-made Easter buns studded with dried fruits are an extra special way to start the day on Easter Friday, either for breakfast or brunch feasting, or for morning tea.
Makes 12
1 tbsp active dry yeast
1/4 cup plus 1 tbsp caster sugar
1 1/2 cups lukewarm milk
4 cups plain flour, sifted
2 tbsp cocoa powder, sifted
2 tbsp mixed spice
1 cup raisins
1/2 cup dried cranberries
50g butter, melted
1 egg, lightly beaten
CROSS MIXTURE:
1/2 cup flour
1/3 cup cold water
GLAZE:
1/3 cup sugar
1/3 cup water
1 tsp gelatine
1 Place yeast, 1 tablespoon of measured sugar and 1/2 cup measured milk in a bowl and leave for 5 minutes until foamy.
2 Combine flour, cocoa, spices, raisins, dried cranberries and remaining sugar in a large bowl and make a well in the centre. Add yeast mixture, remaining milk, melted butter and egg to well. Mix together until a sticky dough forms.
3 On a lightly floured surfaced, knead dough for 5 minutes or until dough feels smooth and elastic. Transfer to a lightly oiled bowl. Cover with plastic wrap and stand in a warm place until doubled in size (this will take up to 1 hour).
4 Grease a 20 x 30cm lamington tin and line with nonstick baking paper. Divide dough into 12 equal portions; roll into balls and place in tin in neat rows. Cover and leave in a warm place for 30 minutes to rise.
5 Preheat oven to 200°C. Make crosses by blending flour and water together until smooth. Place in a piping bag and pipe crosses onto buns. Bake 25-30 minutes or until browned and springy to touch.
6 Remove to cool. Brush with warm glaze made by boiling all glaze ingredients together until sugar and gelatine dissolve.
Chef's tricks: Foaming yeast mixture indicates that the yeast is activated. It is important to leave the dough to rise in a warm place to stimulate the yeast. Cover the bowl of dough with either plastic wrap or a damp, clean tea towel.