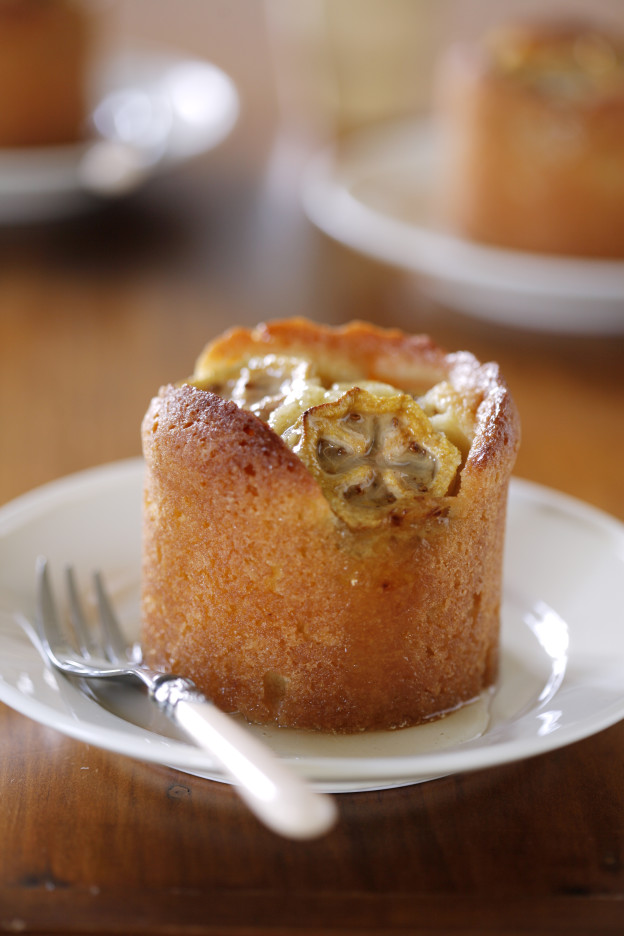 While the cakes cook the slices of feijoas caramelise giving the fruit a more intense flavour that is further heightened by the tangy lemon syrup. If you like feijoas then you will find these cakes truly scrumptious.
Makes 6
100g butter, softened
1/2 cup caster sugar
2 eggs
1/2 cup fine desiccated coconut
3/4 cup plain flour
1 teaspoons baking powder
4 feijoas, peeled and sliced
1 Preheat oven to 160°C fan bake. Grease and lightly dust with flour 6 x 1 cup capacity cake tins.
2 In a bowl, beat butter and sugar with an electric mixer until pale and creamy. Beat in eggs, one at a time. Stir in coconut, sifted flour and baking powder. Spoon mixture into prepared cake tins. Arrange a few feijoa slices over the surface of each cake.
3 Bake for 30 minutes or until a skewer inserted comes out clean. Cool cakes in tins. Once cold, remove cakes from tins and saturate with hot lemon syrup (recipe follows).
LEMON SYRUP:
Makes 1 1/2 cups
Juice of 6 lemons
1 cup water
1 cup sugar
1 To make the lemon syrup, place all ingredients in a saucepan.
2 Bring to the boil, stirring until sugar dissolves. Simmer hard for 3 to 5 minutes or until thick and syrupy.