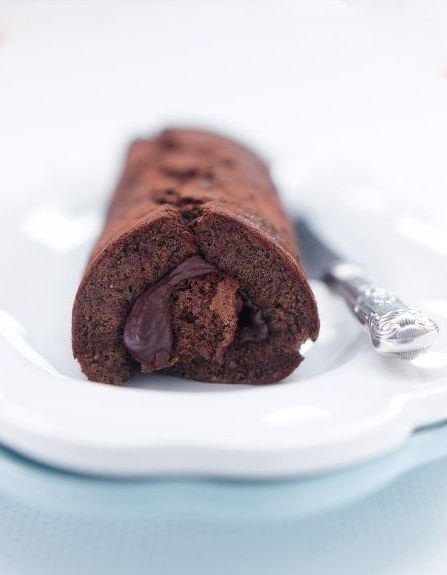 This decadent tasting dessert is beautifully moist, full of texture and flavour impact, and just happens to be wheat- and gluten-free, and dairy-free into the bargain.
Serves 10-12
4 eggs
3/4 icing sugar, sifted
3 Tbsp cocoa powder, sifted
Finely grated zest of 1 orange
1 cup ground almonds
Extra cocoa powder, to dust
Filling:
200g quality dark chocolate (dairy-free), chopped
200ml orange juice
1 Preheat oven to 180°C. Line a 25x30cm Swiss roll tin with baking paper. Place the eggs and icing sugar in a clean bowl and whisk until very thick and pale. Fold in the cocoa, orange zest and ground almonds, without deflating the mixture.
2 Spread mixture into prepared tin and bake for 15 minutes. Remove to cool then turn out onto another piece of baking paper dusted with cocoa powder.
3 To make the filling, place the chocolate and orange juice in a heatproof bowl set over a saucepan of simmering water, or microwave for 2 minutes.  Whisk to combine then set aside to cool for a couple of hours until thick and spreadable.
4 Spread cake with filling and roll up into a log. Chill for 30 minutes to set.