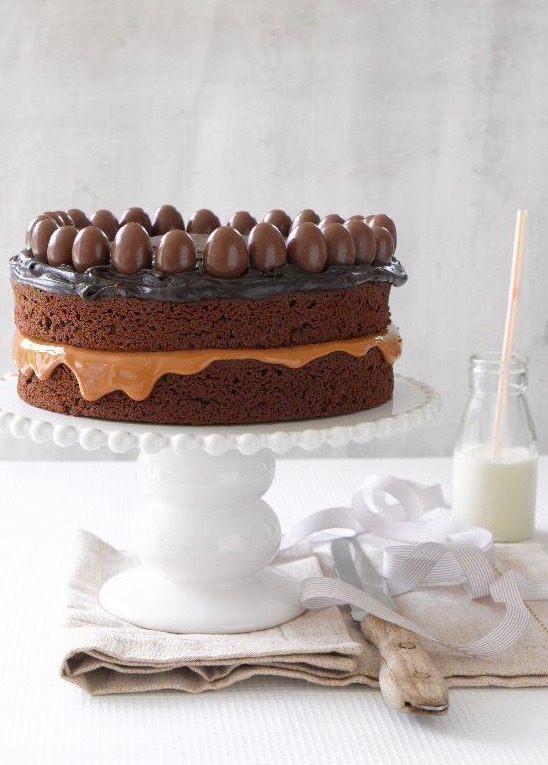 This spectacular cake is simple to make and assemble and wonderfully delectable to eat. I find Scorched almonds are an easy, effective and delicious decoration.
Serves 12
125g butter, cubed
200g quality dark chocolate, coarsely chopped
150ml milk
1 cup firmly-packed soft brown sugar
2 tsp vanilla extract
2 large eggs, separated
150ml sour cream
1 1/2 cups self-raising flour, sifted
1 tsp baking powder, sifted
1/2 can (200g) Caramel condensed milk, stirred until smooth
250g packet Scorched almonds, to decorate
Ganache:
100g quality dark chocolate, coarsely chopped
1/2 cup cream
1 Preheat oven to 180°C. Grease two 20cm springform cake tins; line bases with baking paper. Place butter, chocolate and milk in a bowl set over a saucepan one-quarter full of simmering water until melted. Or microwave, to melt. Add sugar and stir until smooth.
2 Remove from heat to cool slightly. Stir in vanilla, egg yolks and sour cream, followed by flour and baking powder. Whisk egg whites in a clean bowl until stiff peaks form. Gently fold egg whites into cake mixture.
3 Divide mixture between prepared tins. Bake for 30 minutes or until firm to touch. Remove and transfer to a wire rack to cool completely.
4 Make ganache by melting chocolate and cream together in a bowl. Stir until smooth. To assemble, sandwich cakes together with caramel. Spread ganache over top of cake and decorate with Scorched almonds.