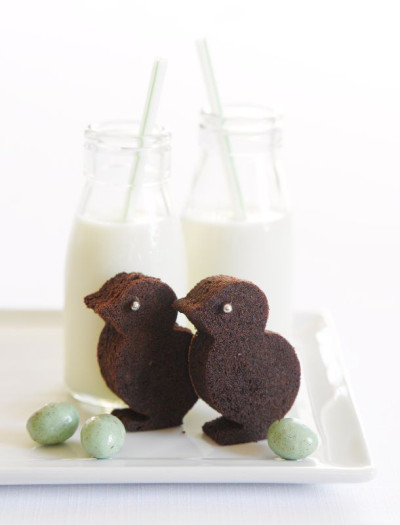 Makes 18, depending on size                                                     
150g dark chocolate, coarsely chopped
150g butter, cubed
1 cup caster sugar
3 large eggs, lightly beaten
1 cup flour, sifted
1/2 cup cocoa powder, sifted
1 Heat oven to 180°C. Line a 17 x 27cm slice tin with baking paper. Place chocolate and butter in a heatproof bowl and microwave for 2 minutes, to melt. Stir until smooth.
2 Stir in sugar and then stir in eggs. Stir in flour and cocoa to just combine. Pour into prepared tin, smoothing the surface. Bake for 35-40 minutes or until cooked when tested with a skewer.
3 Remove to cool in tin. Use a small cookie cutter to cut out Easter theme shapes, such as chickens or bunnies. Decorate, if desired.