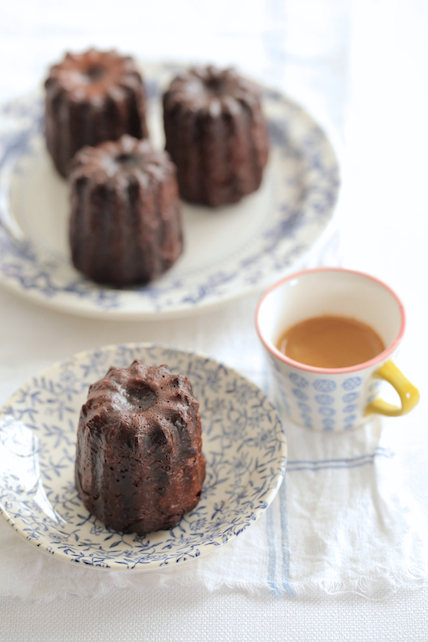 I want to tell you about a French delicacy that I have adored for a long time now. They may look rather plain but don't judge a Canelé by its simple exterior. With their darkly caramelised, crunchy outside and soft rum and vanilla-scented custard interior these sweet morsels are addictive. For me, it was love at first bite the very first time I tasted a Canelé.
Not to be confused with cannelle (the French word for cinnamon), Canelés de Bordeaux are a truly delicious French pastry/cake creation. As their name implies, Canelés originated in Bordeaux but can now be found in patisseries in Paris and beyond, where they are known as Cannelés Bordelaise (more on this to come, so read on).
Cannelés have a past steeped in folklore and it is not quite known when the first cannelé was made. All that is known about their origin is they were created by nuns in the Bordeaux region of France sometime before The French Revolution – some accounts date their origin back as far as the 14th century. Traditionally, nuns made various baked goodies such as cannelé using egg yolks that were donated by local winemakers who used only the egg whites to clarify their wines.
In the 1980s, the French became concerned that the Cannelé would be corrupted by global food trends, so they formed a fraternity of bakers to protect the integrity of the Cannelé. Much like Champagne, which can only be referred to as such if it is from the Champagne region of France, Canelé can only be called Canelé de Bordeaux if they are made in Bordeaux. Whereas, Cannelé Bordelaise (spelt with an intentional second 'n'), is the name given to this sweet treat found in bakeries elsewhere in France and now also around the globe.
Just as specialty Macarons shops are springing up all over the world, when I was in Paris earlier this year, I noticed a new phenomenon… specialised Cannelés Bordelaise stores are the new vogue.
You will need specific fluted copper Cannelés moulds and lots of time and patience to make your own Cannelés, but it's worth perfecting the art, as the results are sublime. Here's a recipe that I've developed that works a treat: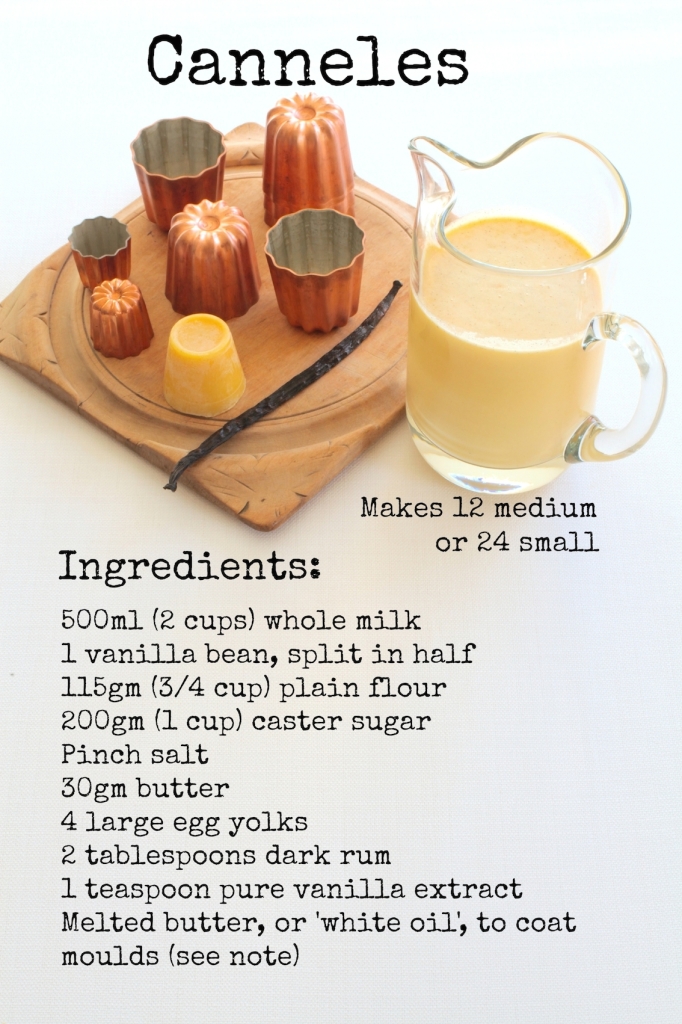 Cook's note: 'White oil' is made by mixing melted bees wax and then blending in enough neutral oil, such as sunflower or canola oil, to form a smooth white coloured oil. This is traditionally used to brush the cannelé moulds. However, it's a bit of a palaver to deal with and I find that butter works just as well.