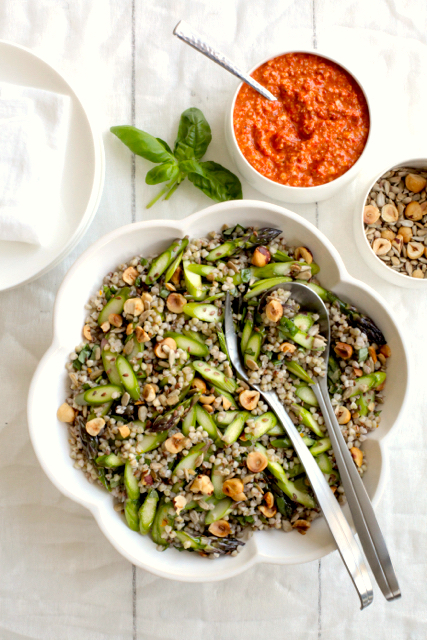 I'm nuts about nuts! So, to celebrate National Nut Day, which is today folks, here are a couple of recipes that I know you'll find useful over the coming summer months.
ROMESCO SAUCE
Romesco (a Spanish almond and red pepper sauce) is delicious dolloped over the following salad and many other salad combinations. It also makes a great sauce for barbecue seafood or roast chicken.
Makes 2 cups
1 cup natural almonds
3 cloves garlic
2 large preserved red peppers, well-drained
1/2 cup extra virgin olive oil
1 tsp smoked paprika
Salt and freshly ground black pepper
Place almonds and garlic in the bowl of a food processor and process to chop. Add peppers; process to from a thick puree.
With the motor running, slowly drizzle in the oil until amalgamated. Add paprika, salt and pepper to taste. Keeps well for up to 1 week if stored in the fridge.
HAZELNUT, BUCKWHEAT & RAW ASPARAGUS SALAD WITH ROMESCO SAUCE
Serves 6
1 recipe Romesco sauce (see above)
1 1/2 cups whole buckwheat (groats)
2 bunches fine asparagus, trimmed
1 cup hazelnuts (or walnuts, if preferred), toasted and chopped
1/3 cup sunflower seeds, toasted
1/3 cup flaxseeds
1/2 cup basil leaves, chopped
1/4 cup extra virgin olive or avocado oil
Finely grated zest and juice of 1 lemon
Method:
Cook the buckwheat in plenty of boiling water for 8-10 minutes, or until tender to the bite. Drain well and set aside to cool.
Finely slice the asparagus on an angle. Combine cooled buckwheat with the remaining ingredients and toss well. Season with salt and pepper, to taste.
Serve topped with dollops of Romesco sauce.